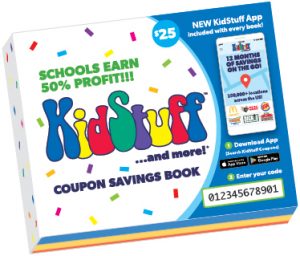 KidStuff Coupon Book | Coming Home This Week | New App, Reward Program & Online Payments!
The TFES PTO is selling the very valuable KidStuff Coupon Book again this year, which includes a 12-month membership to the New KidStuff App! The app has local and national coupons for savings on the go – locally and across the country. Books are $25 and TFES earns a 50% profit.
If you would like to purchase the book that is sent home, please send in $25 (cash or check) payable to "TFES PTO" in the envelope provider or pay online through your KidStuff portal. If you DO NOT wish to purchase the book, please return it to school with your student.
We have a great new reward program this year:
Sell 3 Books – earn a special TFES Short Sleeve T-Shirt
Sell 5 Books – earn a special TFES Long Sleeve T-Shirt and a FREE KidStuff Coupon Book
Sell 10 Books – earn a special TFES Hooded Sweatshirt and 2 FREE KidStuff Coupon Books
Go to https://mykscb.com/myschool and create your account using our School Code: THO157143. Then you can share your Seller Link with family, friends & coworkers to purchase books online. Or simply pay online for your book sent home.
Check other fundraisers.