Description:
Make a skeleton out of Q-tips on a piece of paper.
Party  Theme:
Halloween
Type of Project:
Arts & Crafts
Materials Needed:

1 paper (black or orange)
Glue stick
Individual Baggie filled with 15 full Q-Tips, 2 half Q-Tips for the feet, 10 just the tip of the Q-Tips, 1 pre cut out small skeleton head (white paper)
Thin  black marker (only if the kids are making the skeleton face themselves)
Scissors (only if the kids are old enough to cut out the skeleton head and/or cut the Q-Tips)
Something to use to write name on project

Step by Step Instructions:

Draw 6 horizontal lines with the glue stick for the ribs (keep them close together in the center of the page)
Place the 6 Q-Tips on the glue lines and push down
Dab glue on the middle of each of the 6 ribs
Place one Q-Tip vertically on the 6 ribs
Draw the glue lines for one arm (2 full Q-Tips) and the 5 fingers
Place the Q-tips for the one arm and 5 fingers and push down
Repeat steps 6 & 7 for the other arm
Repeat steps 6 & 7 for one leg and one foot
Repeat steps 6 & 7 for the other leg and foot
Use a thin black marker to make a face on the head and then glue on the head (you can cut out the heads ahead of time, or have the kids do it)
Write name on project.

Additional Comments:
Ahead of time we cut the Q-tips to the correct size and used a tracer to make all the heads the same size (cut out of plain white paper).  We also drew the faces on the skeletons ahead of time.  All of this was put into a baggie so the kids each had what they needed.  A sample was created so they could copy the idea.  The kids said they were excited to hang this project on their front door.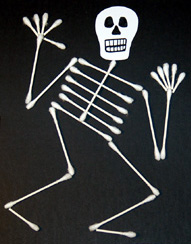 Check other party ideas.