Register by March 3, 2023
View Participation Details  |  Register Here by 3/3  |  View 5th Grade Details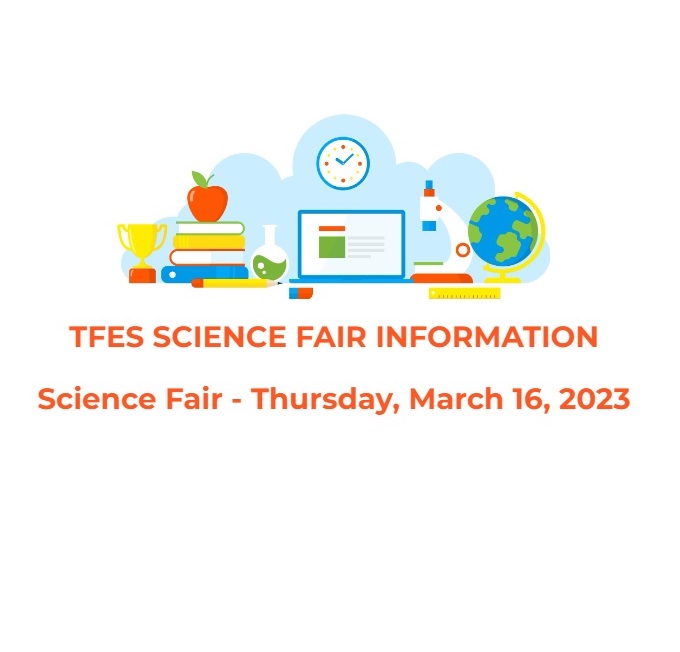 The purpose of an elementary school Science Fair is to inspire an interest in science, provide a learning experience related to science, and have fun – all at the same time! We hope that by sponsoring a school Science Fair, the whole TFES community can learn from and enjoy the children's efforts.
Participation in the Science Fair at TFES is encouraged, yet voluntary. Students are encouraged to work individually or in small groups of two or three. Entries should be simple, age-appropriate, and within the child's scope of ability and interest.
Please Note : 
5th-grade students can enter their projects into the competition for prizes!
Participants drop projects off and set up in the morning during school arrival.
All students get to visit the Science Fair during the day with their classes.
Families are invited to come for hands-on activities for all in the evening 6:30-8:00 pm.
5th Grade Competition Information
All 5th graders are invited to enter their project into the Science Fair Competition. Entry into this competition is voluntary. The 5th-grade competition is modeled after regional Science Fairs and will be judged with a rubric during the day of the Science Fair.  Participants do not have to be present in the evening to be part of the competition. 
View Participation Details  |  Register Here by 3/3  |  View 5th Grade Details
Questions? Contact your Science Fair Chairs:
Danielle Duffy     daniellec617@hotmail.com     267-474-3968
Talia Woodson    mllr740@aol.com                     215-760-2400
Pete Malone       pete@two17photo.com         267-239-1266

View Participation Details  |  Register Here by 3/3  |  View 5th Grade Details